In This Section
Welcome to this week's Celebration Assembly.
To see our celebration assembly for this week, please follow this link:-
To see the wonderful learning that the children have been up to, follow this link:-
To see all the lovely videos we have created for you so far, please check out our You Tube channel:-
Wisborough Green School You Tube Channel
Here you will find a range of activities that your child can complete at home. There are web sites, work booklets and suggested learning tasks for them to select from.
EYFS and KS1 children can complete all activities on paper or in their home learning books. An additional exercise book has been provided. Tapestry can be used to record and upload the children's wonderful learning at home.
KS2 children can upload work to their Office 365 account. Teachers may communicate to the whole class using Office 365 emails and the One Drive.
Additional learning tasks will be added to the class pages as required, keep checking these for new learning activities.
Below is an example of a suggested home learning timetable which can be used to keep routines and consistency for the children at home.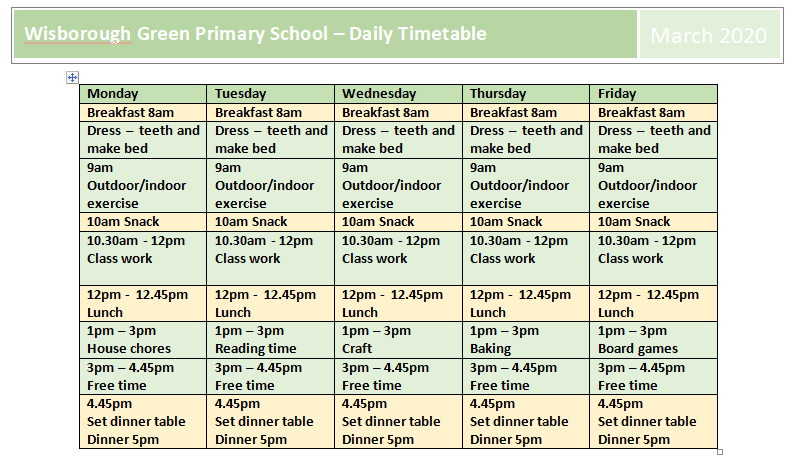 Indoor Exercise

Outdoor Exercise

House Chores

Free Time

Beach walk/scoot
Bike ride
Forest walk

Organise a room
Help prepare a meal
Fix something
Clean something
Help someone

Ipad
Family Movie
Dress up
Toys
Computer games
Twinkl (a primary school resource website) have created free access for parents to support home learning, The School Closures Packs are designed to continue children's learning easily with minimal input from parents. Included are worksheets, learning challenges, educational games, arts & craft activities, posters and more. They all cover Areas of Learning and have simple designs that are easy to download, print and follow. You can create a free account here:-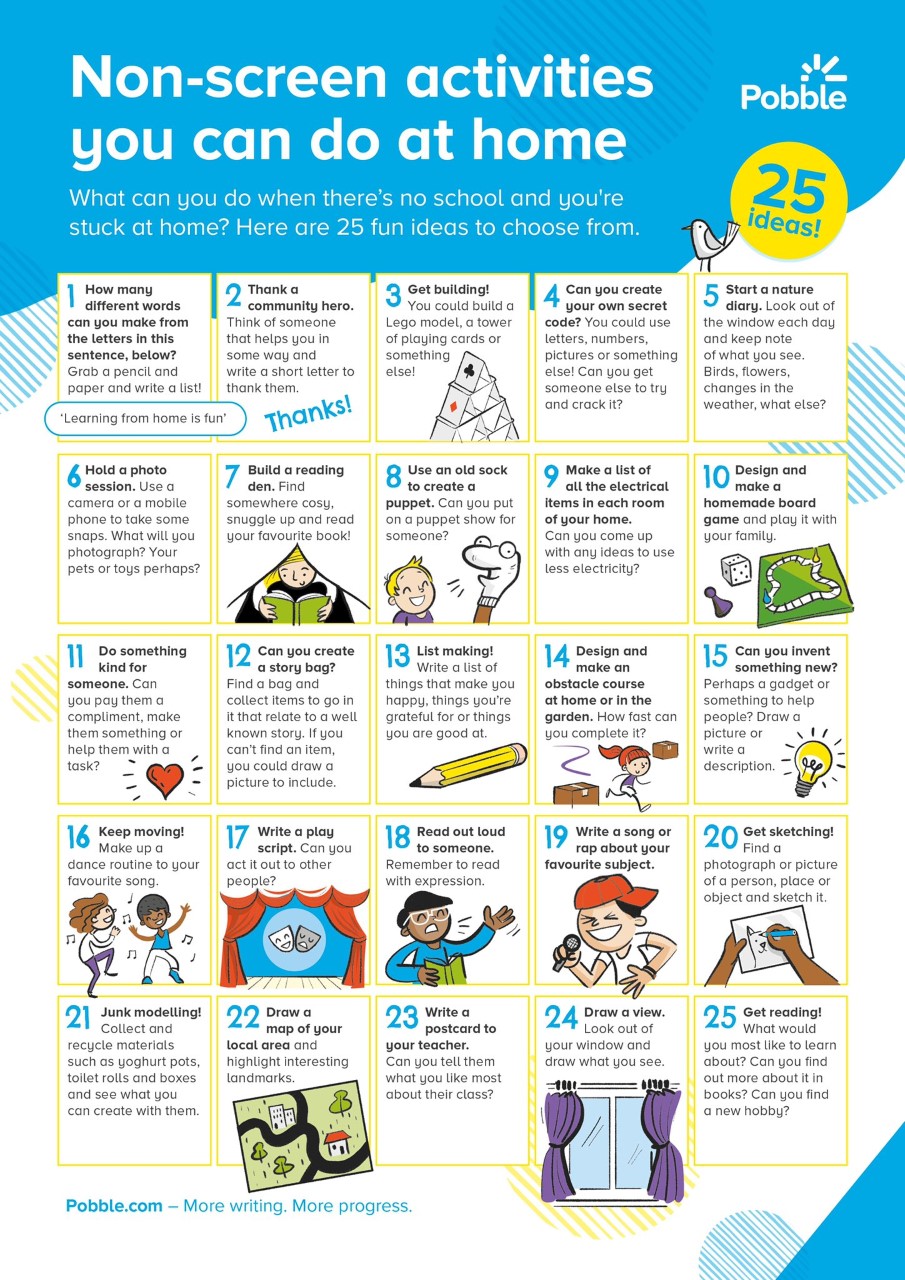 Keeping active is really important, at school we love a Joe Wicks 5 minute work out, follow this link to do this at home:-
Specsavers Virtual Sussex School Games Newsletter
Here is a selection of the websites, as recommended on the letter from Paul Wagstaff:
https://home.oxfordowl.co.uk/reading/
https://www.sounds-write.co.uk/
https://www.literacyshed.com/home.html
https://www.forestryengland.uk/blog/10-ways-keep-the-kids-entertained-through-covid-19
https://youngminds.org.uk/resources/school-resources/how-many-positives-activity-sheet/
https://www.stitcher.com/podcast/how-stuff-works/surprisingly-brilliant
https://www.littlebird.co.uk/blog/2020/03/tour-your-favourite-london-museums-in-the-comfort-of-your-own-home/
https://www.sportengland.org/stayinworkout
https://www.lego.com/en-my/kids/games
Activities with celebrities:
• 9am - PE with Joe Wicks
• 10am - Maths with Carol Vorderman
• 11am - English with David Walliams
• 12pm - Lunch with Jamie Oliver
• 1pm - Music with Myleene Klass
• 1.30pm - Dance with Darcey Bussel
• 2pm - History with Dan Snow (free for 30-days)
• 4pm - Home Economics with Theo Michaels (Mon/Wed/Fri)